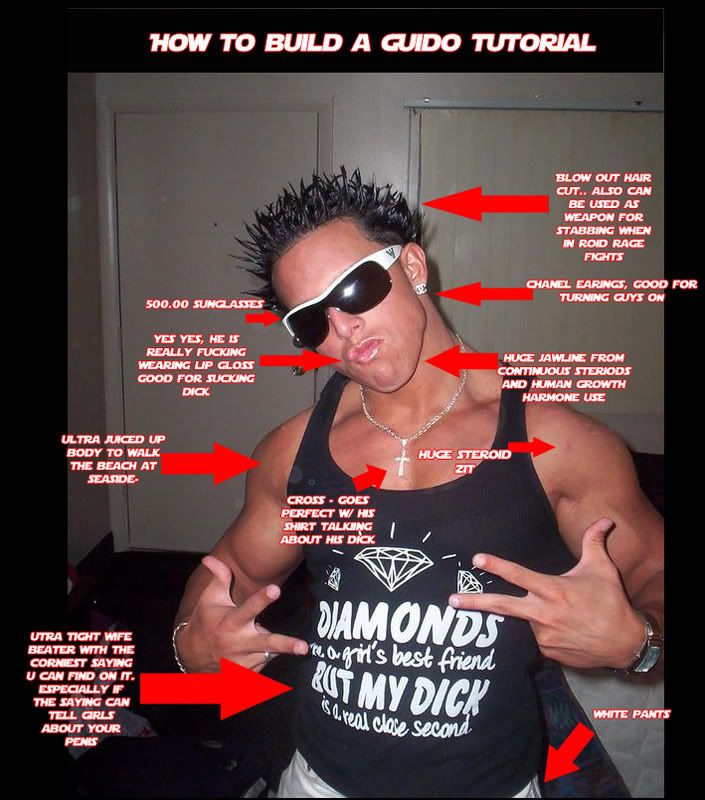 I have to go on record first by saying that I despise the Affliction clothing line and brand. I see every Guido and their mother wearing Affliction nowadays.

Not sure what a Guido is well, click on the picture to the left and know that Affliction is the new uniform for posing tools like that guy and every other cloned douchebag out there.

Affliction is cool if you're under 15 years old but after that, you're just a tool.

That's why you love me so much, because I take a side and stick to it unlike the MMA poser sites that are scared shitless of pissing anyone off, mostly the group of human casualties in the pic beside who frequent their sites daily.

Well, Affliction clothing has officially released details about their debut MMA event aptly titled, "Banned" on June 19. The event is named "Banned" as a tongue in cheek shot at the UFC and Dana White who banned Affliction from being worn by any fighter at UFC events (Thanks Randy Couture!).

The "Banned" event will air live on pay-per-view from the Honda Center in Anaheim, California which has in my humble yet eloquent opinion, a FUCKIN' AWESOME CARD!

• Fedor Emelianenko vs. Tim Sylvia
• Josh Barnett vs. Pedro Rizzo
• Renato Sobral vs. Mike Whitehead
• Matt Lindland vs. Fabio Negao
• Aleksander Emelianenko vs. Paul Buentello (yet to be signed)


Non-pay-per-view fights:
• Savant Young vs. Mark Hominick
• Justin Levens vs. Ray Lazama
• J.J. Ambrose vs. Patrick Speight
• Mike Pyle vs. Brett Cooper

Question: Will you buy this PPV card or keep your cock and your money in the UFC?